Our Facilities
Innovative, contemporary and inspirational environment makes THINKlab an ideal venue for events and envisioning.
THINKlab's sleek design with colour, light, sound and the latest technology combine to create atmospheric stylish spaces for stimulating debate, collaboration and innovation.
Our professional and friendly staff will work with you to ensure every need is cared for, providing excellent standards of customer care to make your event a success.
THINKlab consists of four individual areas working together to support the innovation process:
Social Area
Relax in our contemporary social area with stunning panoramic views of the Manchester city skyline.  A focal light wall producing a myriad of stunning colour displays and an acoustic system all work together in creating a relaxed area for social interaction supporting ice breaking and team building. Capacity 40.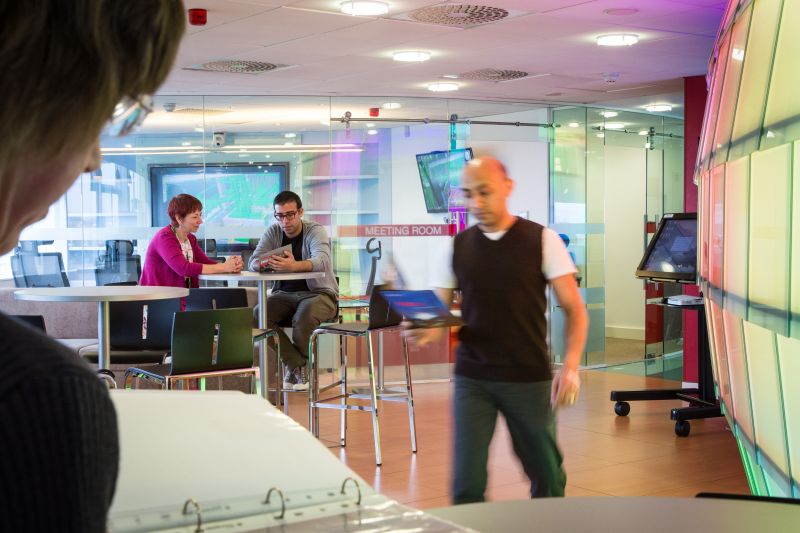 Meeting Room
Stylish meeting room with LCD screen for presentations and video conferencing facility. An ideal breakout area available alongside the social area for brain storming and ideas' generation. Capacity: 10.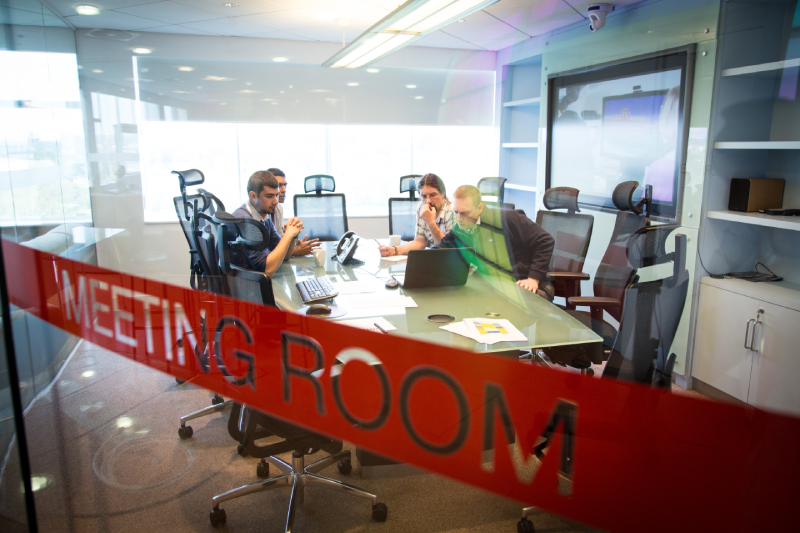 Pod
A focused area free from distractions capable of supporting groups during the stages of identification of needs/challenges, data gathering, idea generation and prototyping. Equipped with projector, screen and video conferencing facilities. Fully air conditioned and adjustable mood lighting. Capacity: 30.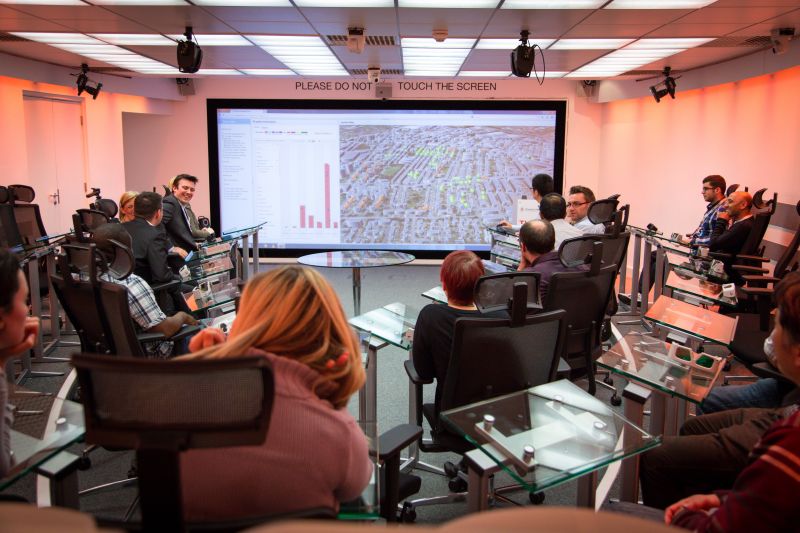 Hire THINKlab
If you are interested in hiring the THINKlab please contact us to discuss your requirements and how the THINKlab environment & technology can add value to your activities.
THINKlab hire rates are provided below. Click here for our Salfood-Hospitality-Brochure-2018.pdf
Full day rate = £35 +VAT per delegate (min. charge of 10 delegates = £350)
Half day rate (less than 4 hours) = £18 +VAT per delegate (min. charge of 10 delegates = £180)
Included in this price:
Exclusive use of the THINKlab suite
Technical support for set up and throughout your event
Digital Projector and Screen (capable of 3D display)
Laptop and Net books
Smart Board
Surround Sound
Microphones
DVD/Blu-Ray
Flip Charts and Pens
Car Parking
Wi-Fi
Webcast
Water Cooler
Video Conference £6 per connection per hour
Zing Debate and Voting system £100 per event – capable of structuring meetings and capturing thinking
Additional charges:
Hospitality
£100 Surcharge applied to bookings starting before 8:30am
£100 Surcharge applied to bookings finishing after 5:30pm
3D Demonstration
We are able to provide a 1 hour demonstration of the Digital Cities platform; an integrated 3D city view utilising datasets and models provided by city stakeholders such as Transport Authority, Environment Agency, Police and Health Authorities, Ordnance Survey etc. Demo's of other 3D technologies will also be provided.
The fee for this demo is £100 plus vat.
Facilitation
We are able to provide facilitation services starting at £1,200 per day plus VAT. To include:
0.5 day preparation – including meeting/discussion with the client to fully understand their requirements and agree a format for the event
1 day facilitation services
0.5 day report writing – including correspondence with the client
Technical Development Support
Enabling the application of your datasets to ICT platforms. Provided on a day rate basis of £500 plus vat. After discussing your requirements we will be able to provide an estimated cost for completion of your requirements.