The University of Salford's THINKlab has developed a digital platform which allows a range of heterogenous sensor networks to be integrated so project partners can effectively monitor rising rivers and rainfall which can lead to floods and landslides.
The digital platform will be used in Sri Lanka, Malaysia, and Pakistan, three low-middle income countries whose sensor networks are often disconnected, and which do not always work at their full potential to support their disaster risk reduction efforts.
The THINKlab's research team within the MOBILISE project are working with government organisations, NGOs and Disaster Management Centres (DMCs) to implement the new platform and integrate their disconnected sensor networks. This will provide stakeholders with more insightful data sets so they can make better decisions to build resilience and save lives.
The platform will allow DMCs and other agencies around the world to link data from a range of sensors, obtaining information on rainfall, water levels, flow rate and soil moisture levels to produce early warnings and to better understand disaster-based scenarios. By integrating the sensor network data with a rich city information model (provided by the MOBILISE 3.0 risk information platform) DMCs can improve their disaster risk reduction and early intervention strategies. By utilizing this information, they can create a more comprehensive picture about a hazardous situation, thus improving response times and reducing negative impacts on people's lives.
The MOBILISE team have developed the platform so it can integrate with multiple third-party sensor networks and IoT devices (which transmit data over the internet, or over other network mobile devices). The newly gained insights will enable stakeholders to grasp a wider perspective and understanding of a current or historical situation and will allow them to develop more effective early intervention and response strategies.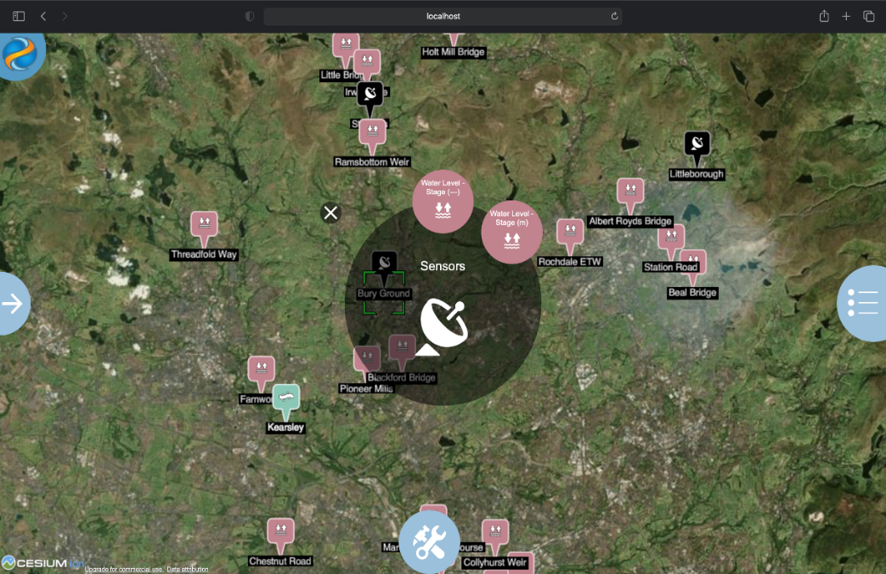 Developed as part of the MOBILISE project and funded by the Global Challenges Research Fund (GCRF) and The Engineering and Physical Sciences Research Council (EPSRC), MOBILISE 3.0 gathers information and data from sensors, satellites, city information models and communities to present an innovative collaborative environment that enables agencies to work together to prepare for, and respond to, disasters. The platform provides stakeholders with a deeper understanding of vulnerability and allows them to explore 'what-if' scenarios which then help disaster management agencies to agree on appropriate disaster mitigation measures which will improve and build resilience in disaster-prone areas. It is currently being used by DMCs in Sri Lanka, Malaysia and Pakistan.
Dulcidio Coelho (Technical Director) said: "In the last few years, many smart objects found in the physical world are now interconnected and communicate through a global network infrastructure (IoT). In the development of solutions for a wide range of devices and IoT platforms, users have seen the creation of a variety of data exchange standards with many different solutions providing their own IoT infrastructure, devices, APIs, and data formats which can lead to interoperability issues. In the MOBILISE project we have developed a micro-service intended to address some of these interoperability issues. It allows the MOBILISE platform to access a variety of environmental sensor networks from a variety of local stakeholders and organisations which then strengthens the platform data and increases the capacity to deploy Early Warnings' Services."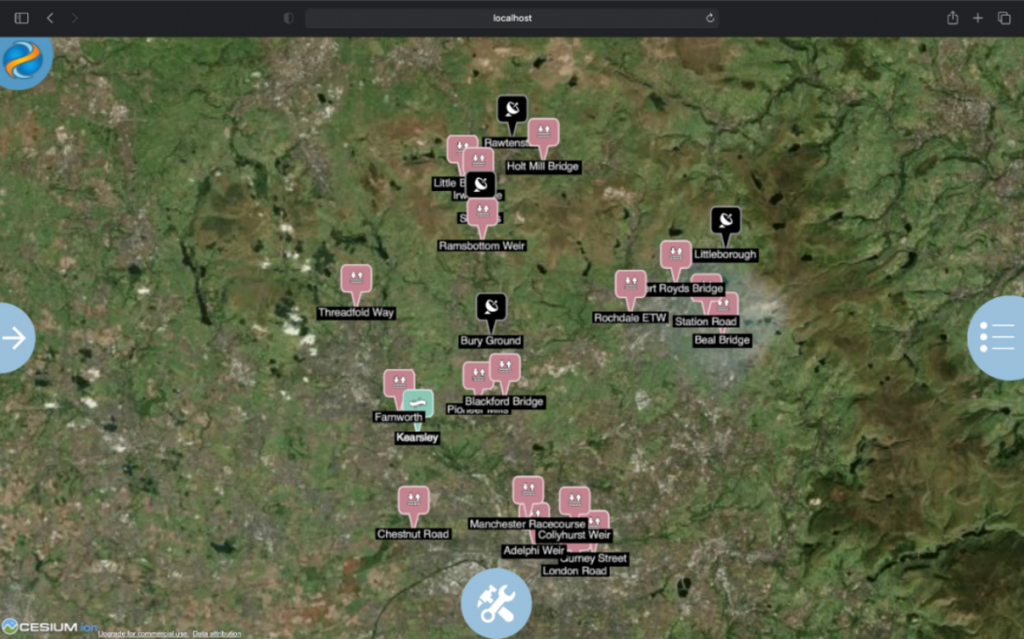 The sensor network platform has now been tested in two scenarios.
Early warnings for landslides in Sri Lanka in association with NBRO:
The National Building Research Organisation (NBRO) are the focal point within Sri Lanka for landslide risk management. It is currently using the sensor network platform. The data is visualized using a colour coding system. Once a sensor reaches its threshold level, the colour coding will change automatically. Once this occurs the NBRO staff can then communicate with District Officers about the seriousness of a risk, and whether a warning should be issued. If this is required, a warning will be shared with all the stakeholders using the MOBILISE platform, as well as through other communications. The design of the MOBILISE platform means that the workflow engine will enhance the disaster management functionality and a DMC can monitor the progress of each action to help reduce risk governance in the future.
Dayan Munasinghe from the NBRO said: "Disaster risk management is a long journey and it is important for us to strengthen the institutional capacity. If we can link our individual responsibilities, we can create a more systematic chain through the use of technical data inputs. If we act together, we can solve many problems and actions can be reviewed for enhancing the future practices of stakeholders to collaborate more effectively. The MOBILISE platform provides us with this opportunity and our DMC staff are becoming much more adept in using the platform."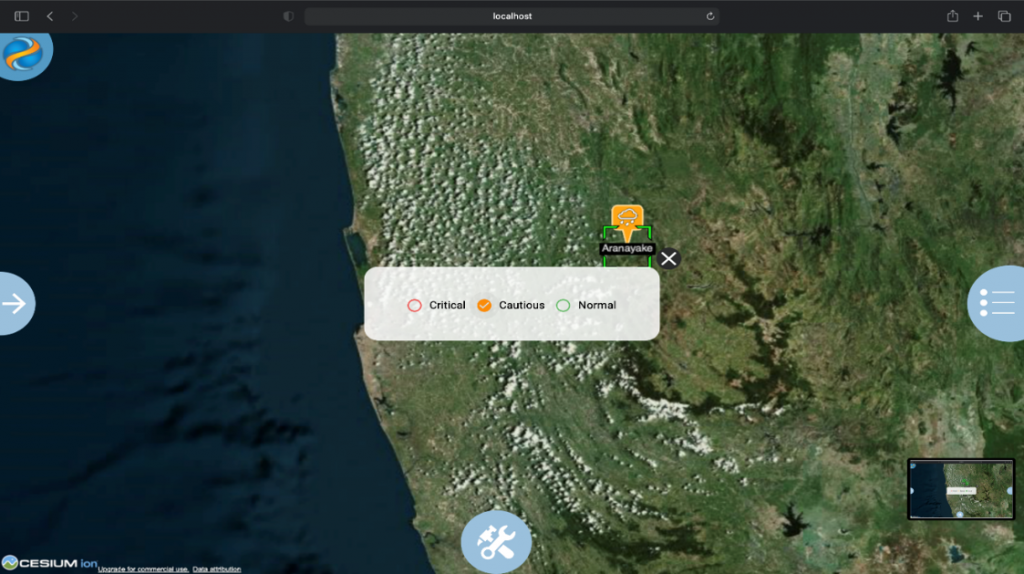 Community-based early warnings for floods in Sri Lanka in association with the Irrigation Department:
Working with the Lions Club 306C1 in Sri Lanka, the MOBILISE teams have conducted a study in collaboration with the Gampaha District Secretariat and the Divisional Secretariats of Dompe, Biyagama and Kelaniya to identify priorities in relation to flood preparedness. The results of the study show that local level flood early warning and warning dissemination is of the highest priority to reduce flood risk. As a result, two river water level monitoring systems have been established along the Kelani River and over the Pugoda and Mapitigama bridges with the guidance of the Irrigation Department.
THINKlab Research Fellow, Srimal Samansiri said: "The THINKlab has initiated the development of a mobile application to disseminate water level information in real-time among communities. This is a multi-stakeholder collaborative project with the participation of national, district and local level organizations to facilitate communities to enhance their flood resilience using state of the art digital technologies."
Professor Terrence Fernando, Director of THINKlab said: "We decided to develop this digital platform because we realised that there are many disjointed sensor networks in low middle income countries. These sensor networks have been installed by different NGOs or by various government agencies as a part of previous short term projects. As a result there is no nationally coordinated approach to connect these sensor networks so that rich set of intelligence can be captured by agencies to monitor hazards and send early warning messages to the people at risk. We believe that this work will help us to strengthen institutional capacity of disaster management agencies to issue reliable early warning messages to people as well as promote community-driven initiatives to build local capacity for responding and safeguarding themselves against hazards".
Further Notes:
Funded by the Global Challenges Research Fund (GCRF) and The Engineering and Physical Sciences Research Council (EPSRC), the MOBILISE project focuses on LMIC communities in Sri Lanka, Malaysia and Pakistan who are regularly affected by natural disasters such as flooding, landslides and earthquakes.
The MOBILISE platform is targeted at helping various governments to implement the Sendai Framework Priority 1: 'Understanding Risks' and Priority 2: 'Risk Governance,' as established by the United Nations. The team collaborate with international partners and organisations working across government, disaster management, computer science, education and science in Sri Lanka, Malaysia and Pakistan.
Led by the THINKlab Director, Prof Terrence Fernando, the project is developing a digital infrastructure which offers intelligence to multiple stakeholders who can work together to help reduce the impact of natural disasters on their local communities. Set up in May 2017, the project will run until2021. For more information, please follow this link: MOBILISE