Dayan Munasinghe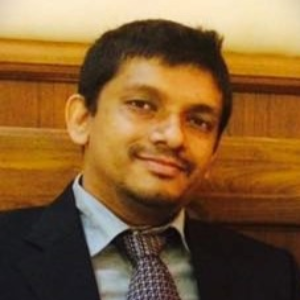 Biography
Plnr. Dayan Munasinghe is a senior scientist at the National Building Research Organisation in Sri Lanka, the focal institute for Landslide Risk Reduction. He has 13 years of experience in disaster management, especially in risk identification, risk mapping, flow simulations, aerial image interpretation, and community perception.
He has completed his bachelor's degree in Urban Planning and Masters by Research in Construction Management. Now he is doing a PhD at the University of Salford. He is a Chartered Town Planner and a Member of the Green Building Council of Sri Lanka.
Dayan has contributed to many projects and published many research articles. Also, he is working with many collaborative project partners: Asian Disaster Preparedness Centre (ADPC)-Thailand, JICA-Japan, Norwegian Geotechnical Institute (NGI)-Norway, Vanderbilt Institute for Energy and Environment (VIEE)-USA, University of Salford- UK, and University of New South Wales (UNSW-Sydney)-Australia.
Research Interests
Risk Propagation
Disaster Risk assessment
Urban Dynamics
Drone image simulation
Qualifications and Memberships
Qualification and Memberships
Master Research (Thermal & environmental performance of precast buildings)
Master's by research degree at Department of Civil Engineering, University of Moratuwa, 2018
B.Sc (Town &Country Planning)
Bachelor of Science in Town & Country Planning at Department of Town & Country Planning, University of Moratuwa, 2009
Chartered Town Planner (M350), Institute of Town Planners Sri Lanka, 2016
Accredited Green Building Professional, Green Building Council of Sri Lanka, 2015
Training
• "Urban Risk Management" 2011 Organized by SAARC Disaster Management Centre (SDMC)- India, University of Peradeniya – Sri Lanka, Disaster Management Centre (DMC)- Sri Lanka.(30/10/2011 to 03/11/2011)
• "Space Technology for Improving Hazard Mapping in Sri Lanka" 2012 Organised by UNSPIDER, University of Uva Wellassa – Sri Lanka (14/08/2012 to 17/08/2012)
• "KOICA – ESCAP Capacity Building Programme on Space Technology and GIS Application for Disaster Risk Reduction" 2013 Organised by KOICA, Sungkyunkwan University- South Korea (28/10/2013 to 16/11/2013)
• "6th International Course on Flood Mitigation and Storm water Management 2015" Organised by Department of Irrigation and Drainage, Malaysia. (17/08/2015-28/08/2015)
• "Regional meeting under an Asian program for regional capacity enhancement for landslide impact mitigation"2016, Organised by Asian Disaster Preparedness Centre (ADPC), Thailand (22-24 November 2016)
• "2nd Training in Japan for Technology against sediment disaster (Landslide)" 2017, Organised by JICA, Japan (13th – 27th May 2017)
• "Regional Meeting on Landslide Risk Management", 2017 Organised by Asian Disaster Preparedness Centre (ADPC), Thailand, (6-10 November 2017)
Research
• Risk Mapping as a Tool for Disaster Risk Reduction in Urban Areas in Sri Lanka, 2010, NBRO National Symposium 2010, ISBN: 978-955-0283-01-9
• Disaster Risk Assessment for Sustainable Human Settlements Development, 2012, NBRO National Symposium 2012, ISBN: 978-955-0283-02-6
• GIS Model for Increasing of Accuracy on Landform Map of Landslide Hazard Zonation Mapping Programme, 2012, NBRO Symposium 2012, ISBN: 978-955-0283-02-6
• Cost Effective Approach for Landform Mapping Method Use in the LHMP of NBRO, 2013, NBRO Symposium 2013, ISBN: 978-955-0283-03-3
• Applicability of Drought Monitoring Tool for Decision Making: Use of PDSI tool for Sri Lanka, 2013, NBRO Symposium 2013, ISBN: 978-955-0283-03-3
• Landform Mapping for landslide hazard zonation – Transformation from manual to GIS application, World Landslide Forum 3, 2014, China National Convention Center, Beijing, China,
• An assessment of returns to irrigation infrastructure investment: Hurulu Wewa, 2015, NBRO Symposium 2015, ISBN:978-955-0283-06-4
• Drought resilient farming system through crop diversification: The Case of Hurulu Wewa, 2015, NBRO Symposium 2015, ISBN:978-955-0283-06-4
• Quantitative Landslide Risk Assessment and Mapping, 2015, NBRO Symposium 2015, ISBN:978-955-0283-06-4
• Vulnerability Assessment methods for lands subsidence prone areas- A case study: Matale Municipal Council, 2015, NBRO Symposium 2015, ISBN:978-955-0283-06-4
• Evaluation of indoor thermal and environmental properties of the precast buildings, 2015, NBRO Symposium 2015, ISBN:978-955-0283-06-4
• Requirement of thermal and environmental performance strategies to design of buildings, 2016, NBRO Symposium 2016, ISBN:978-955-0283-08-8
• Study on flood inundation areas in Rathnapura Municipal Council, 2016, NBRO Symposium 2016, ISBN:978-955-0283-08-8
• Drone technology for landslide rapid assessment- case study on Aranayake, Niyadigala, 2016, NBRO Symposium 2016, ISBN:978-955-0283-08-8
• Use of landslide Risk Index for Landslide Mitigation, 2016, NBRO Symposium 2016, ISBN:978- 955-0283-08-8
• Subsurface geotechnical characterisation in Colombo Municipal Area and its subsurface, 2016, NBRO Symposium 2016, ISBN:978-955-0283-08-8
• Development of investigation mechanism to identify flood prone areas; case study at Bulathsinghala, 2018, NBRO Symposium 2018, ISBN: 978-955-0283-11-8
• Thermal and environmental performance strategies to design of buildings, 2018, ISBN: 978-955-0283-11-8
• Post processing analysis of ground penetrating radar signals for detecting subsurface, 2018,ISBN:978-955-0283-13-2
• Application of UAV photogrammetry survey along with SFM-MVS image processing technology in rockfall monitoring in the context of Sri Lanka, 2018, ISBN: 978-955-0283-13-2
• An evaluation of roof structures and their designs for creating building resilience- case study on high wind affected buildings in Gampaha, 2019, ISBN: 978-955-0283-14-9
• Field verifications of the ArcGIS based automation landform model including the recommendations to enhance the automation system with ground reality, 2019, ISBN: 978-955-0283-14-9
• Analysis of locational distribution of resettled people – case study: Aranayake landslide area in Kegalle District, 2019, ISBN: 978-955-0283-14-9
• Assessment on current condition of school buildings located in landslide prone areas in Hali-ela and Haldumulla divisional secretariats, 2019, ISBN: 978-955-0283-14-9
•Application of Remote sensing techniques for ground investigations for reducing the risk to infrastructures with examples from Sri Lanka, 2019, ISBN: 978-955-0283-14-9