Dr. Jamie O'Brien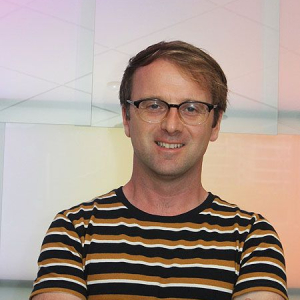 Biography
Before joining THINKlab I was Senior Research Associate at UCL's Bartlett School of Architecture, where I developed graph-based methods for visualizing urban community spaces. I was also CeMoRe Fellow at the Centre for Mobilities Research, Lancaster University.
My book 'Shaping Knowledge' (Elsevier, 2014), covers themes of knowledge representation with reference to systems design and adaptive planning. I am currently writing a follow-up book for Routledge on graph-based knowledge representation for community formations (forthcoming, 2019).
I hold an EPSRC Engineering Doctorate from The Bartlett, UCL, where my research developed and tested applications of VR in neuro-rehabilitation therapies, including models for technology innovation. I have a creative background in visual arts and critical theory and continue to be engaged in practice-based design research.
Research Interests
Design research in the built environment
Network analysis for decision-making
Data modelling and knowledge representation
Theories of space and perception
Research Projects (current and previous)
Visualizing Community Inequalities, University College London, supported by he Leverhulme Trust, 2014-2017
Virtual Environments for Stroke Rehabilitation, EPSRC doctorate, 2003-2007
Qualifications and Memberships
Prof. Cert., Teaching and Learngin in Higher Education
EPSRC Doctor of Engineering in Virtual Environments
BA (Hons.) Fine Art and Critical Theory
Fellow, Royal Geographical Society
Fellow, Higher Education Academy
Publications