Dr Simon Campion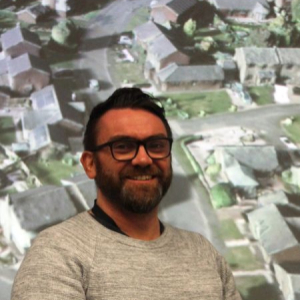 VR Consultant, Project Manager and 3D Generalist
Biography
I have been working in VR/3D graphics for over 15 years taking projects from initial concept through to completion. Specialising in real-time graphics for both commercial and research projects.

PROJECTS: Virtual Environments, Architectural Visualisation (Video and Real-time), Interactive 3D Content, Serious Games/Educational Virtual Environments, Product Visualisation, Simulation and training.

SOFTWARE: 3ds Max, Photoshop, Premiere, After Effects, Illustrator, ZBrush, Lumion, Quest3D, Unity3D and UE4.

HARDWARE (Experience working with and developing for): CAVE, HMD (Oculus, Vive, GEAR VR), Workbenches, Panoramic screens, Pinch gloves, Motion capture and tracking systems (VICON and Qualysis), laser scanners and 3d printers.
Research Interests
Virtual Environments
Virtual characters
Serious Games
Collaborative Virtual Environments
Research Projects
Design4Energy
CrossDrive
Innovate UK – Development of a Satellite-Structural Health Monitoring System Product and Service
Innovate UK – Virtual Incident Training Simulation Platform
Qualifications and Memberships
BSc Hons in Video, Imaging and Communications Technology
MSc Virtual Environments
PhD Virtual Environments
Publications
Navinchandra K. Patel, Simon P. Campion, Terrence Fernando: Evaluating the Use of Virtual Reality as a Tool for Briefing Clients in Architecture. IV 2002: 657-663
withyou—An Experimental End-to-End Telepresence System Using Video-Based Reconstruction. IEEE JOURNAL OF SELECTED TOPICS IN SIGNAL PROCESSING. March 15, 2015
Design 3D on-line gaming environment for learning how to design green buildings. Bassanino, M., Fernando, T., Campion, S., Alkandari, A., Ghazimirsaeid, S. and Masior, J., 2015. The Business & Management Review, 6(5), p.137
A Comparison of Film and Computer Generated Imagery Medium for the Learning of Chimpanzee Behaviours. Simon Campion · Paul Rees · David Roberts. Chapter · Jan 2016
A mixed reality telepresence system for collaborative space operation. Fairchild, A.J., Campion, S.P., García, A.S., Wolff, R., Fernando, T. and Roberts, D.J., 2016. IEEE Transactions on Circuits and Systems for Video Technology
Bringing the client and therapist together in Virtual Reality Telepresence Exposure Therapy. Roberts DJ, Fairchild AJ, Campion S, Garcia AS, Wolff R. In: International Conference on Disability, Virtual Reality & Associated Technologies. Los Angeles, California, USA. 2016
Poster: Non-verbal communication in space planning and operation meetings using immersive collaborative virtual environments. Garcia AS, Fairchild AJ, Campion S, Wolff R, Fernando T and Roberts DJ. In: The Second Virtual Social Interaction Workshop. MediaCity, Manchester, UK, 2016