Mike Polshaw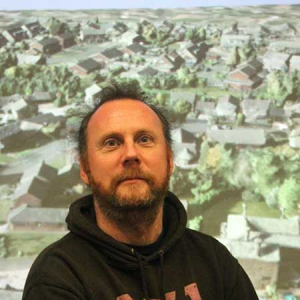 Biography
Mikhail has been working in VR and 3D graphics for over 15 years, including programming, content creation and hardware design/implementation. He is currently a VR software engineer using mainly the Unity game engine.
He has worked on projects in multiple fields, including construction, arts and entertainment, medical, educational and cultural/heritage.
Projects have included several city visualisations, public consultation visuals for parks and urban regeneration, disaster planning and mitigation, art installations and product visualisations.
Mikhail also looked after a flexible performance space/studio, and was involved in multiple large installations, including designing, specifying and installing a large 4 sided display area showing 360 video content, designing and installing a multi-projector display on a curved wall, configuring and installing various interactive public exhibits and working with complicated ambisonic audio displays. He was also responsible for transforming the performance space into a fully featured recording studio.
Research Projects (current and previous)
InnovateUK – Virtual Incident Training Simulation Platform
MOBILISE
Qualifications and Memberships
BSc (Hons) in Electronic Computer Systems
MSc in Virtual Environments