Samaneh Ghazimirsaeid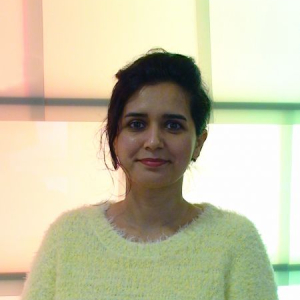 Biography
She has worked as a senior engineer of designing projects and inspector in Fara Gostar Engineering Center, Tehran, Iran. Having studied architecture engineering based on advanced mathematics and carried out wide-range of technically and challenging projects, she has affected skills needed in building projects such as residential complex, commercial offices and so on. Her research is about optimization techniques especially in design for multi-objective optimization problems. This is a multidisciplinary research which is working on game theory concept as an optimization tools to model and solve the multi-level optimization problems with a solid background in the neighbourhood system, optimal operation, scheduling and planning.
Working on numerical algorithms would be significant part of her research having knowledge of modern optimization, control and statistical modelling techniques. Furthermore, she has been trained by herself on specialized software to develop architecture engineering projects such as GAMS, AUTOCAD, SKETCHUP, MATLAB.
Research Interests
Distributed generation (DG); operation and control strategies; the mathematical modeling and control of optimal energy management systems based on heuristic, deterministic, and stochastic algorithm within green building; hierarchical and cooperative control; and cooperative and non-cooperative game theory applications in the energy market and neighbourhood system.
Research Projects
D4E EU Project at University of Salford
Qualifications and Memberships
To spend a professional period about Rando and Maquette
Scientific Committee Membership (a part-time faculty member) in Nonprofit University-Abyek branch, Abyek, Iran
Detailed achievements:
To supervise some student projects as well as to corporate with them in order to implement their thesis;
To assist with a professor in the technical design as well as to held designer lessons
Senior engineer of designing projects and inspector (Part time), Fara Gostar Engineering.
Detailed achievements:
To corporate in some projects such as residential complex, commercial offices and so on.
Publications
Ghazimirsaeid, S.S, Moenifar, M, The study of tourism attraction potentials in order to optimum planning (case study Taleghan County), 2012, Ghazvin Journal, in Persian.