Udathara Damsari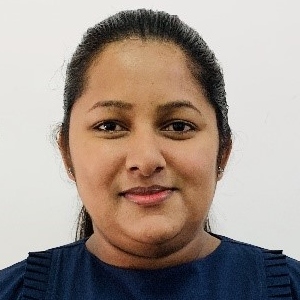 Biography
Udathara Damsari is a dedicated researcher with over 5 years of research experience and interested in risk sensitive urban development, climate change, water efficiency, sustainability and disaster management. She received her undergraduate degree in Bachelor of Science in Facilities Management from University of Moratuwa and successfully completed the Master of Science (by research) degree in in same university. Currently, she is working as a lecturer (temporary) in Department of Facilities Management, University of Moratuwa, while working as a research assistant to TRANSCEND project. Moreover, she worked as a research assistant and a visiting lecturer attached to Department of Building Economics, University of Moratuwa. Looking to the future, she hopes to complete her higher studies with her interested research areas.
Linkedin profile
Contribution to the TRANSCEND project
Conducting a research study related to the "Work Package 02- Engagement of Vulnerable Community" and "Work Package 03- Collaborative Foresight and Decision- Making Platform" under the supervision of Dr. Menaha Thayaparan, and Prof. Terrence Fernando. The title of the research study is "A risk sensitive urban development in Sri Lanka". Currently, the study has been completed successfully and published a conference paper in World Construction Symposium 2021 (Scopus Indexed). Looking forward, two journal papers is being prepared by targeting Q1 category journal.
Publication Details
Damsari, A.G.U., Thayaparan, M., Fernando, T., (2022). State of the art in risk-sensitive urban development. In proceedings of 10th World Construction Symposium 2022. Colombo: Department of Building Economics, University of Moratuwa, Sri Lanka (Scopus Indexed) https://ciobwcs.com/downloads/papers22/WCS2022_Proceedings_59.pdf