Michal Cieciura, a Principal Software Engineer at THINKlab, has recently won a funding application from this year's 2018 Unreal Development Grants.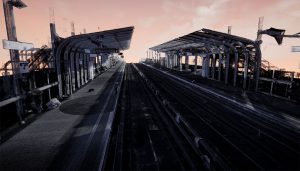 The award is part of the larger $5m development grant by Epic Games which was founded in 2015 to help programmers and studios that are developing the Unreal Engine 4.
Michal is one of 37 winners from a variety of teams or individual creators, who received between $5,000 and $50,000 to support the development of their games, tools, broadcast and more.
His winning entry is a Point Cloud Plugin, a free plugin for Unreal Engine 4, which he has created to help with importing, processing and rendering point clouds. Currently, the software is in beta and supports desktop and VR platforms. It is already being used for a number of individuals, commercial and academic projects in architectural visualisation, construction & engineering, games & entertainment and landscape visualisation.
Michal said: "The plugin originated as a simple tool to aid in one of our in-house projects. I decided to make it a little bit more consumer-ready and release it for free on the Unreal Engine Forums. After it received surprisingly positive feedback, I continued improving it and started recording users' ideas and suggestions for new features. This eventually led to the creation of a streamlined, standalone plugin which it currently is.
There have been many challenges to overcome throughout the work including performance and general handling of the huge data sets the point clouds often come in. It allowed me to acquire a more in-depth understanding of the different parts of the engine, which coincidently benefited other ongoing projects, both personally and in the THINKlab."
THINKlab Director, Prof Terrence Fernando added: "We are so happy that Michal won this prestigious award from EPIC in recognition of his contribution to the gaming community. This is an indication of the quality of the VR team within the THINKlab."
Michal was recently invited to an exclusive event in London which was part of Unreal Engine BuildLondon'18 for Architecture. The event showcased how real-time visualisation technology is being used across the architecture and construction industries, enabling architects and their clients to experience projects in full photographic quality and, if required, in mixed reality. The event took place at the Royal Institute of British Architects (RIBA) in London and included a number of high profile speakers from leading agencies including Zaha Hadid, NVIDIA, Soluis Group, Garou VR and Heatherwick Studio.
Michal is the Principal Software Engineer at THINKlab working in the Enterprise Team. An experienced developer of interactive 3D environments, he has been instrumental in delivering a number of commercial projects for clients including Siemens, Network Rail and the BBC.  Outside of work, his personal interest include virtual reality, computer graphics, game engines and weightlifting!

Point Clouds used for demonstration courtesy of Dr Neil Entwistle, UoS