THINKlab's enterprise team are excited to be exhibiting at this year's GameLab event, which is part of the annual Manchester Science Festival, 2018.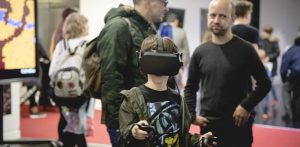 Taking place at MediaCityUK on Saturday 20 – Sunday 21 October, GameLab is a playground for ideas and brings together developers and industry to showcase new research, products and thought-provoking activities.
Exhibiting on both days, THINKlab will display recent work they have co-created with Siemens UK and the Mersey Gateway Environmental Trust. Both projects will demonstrate the possibilities of real-time 3d graphics and how this can be applied in collaborative engineering and interactive learning environments.
Dr Simon Campion, Commercial VR Project Manager said: "We're thrilled to be taking some of the work we've produced with Siemens UK and the Mersey Gateway Environmental Trust to the show and we're really grateful for the opportunity.
For Siemens UK, visitors will be able to walk around an interactive Offshore Electrical Substation in real-time and learn how VR has been utilised from design through to product launch. This device will be using the Oculus Rift Headset offering a fully immersive experience. Don't get too close to the edge and fall in the water!
The VR application we produced with Mersey Gateway Environmental Trust was really exciting and very unique. To achieve the final application we used digital terrain models, geo-mapping layers and drone and satellite data, to enable the user to experience the entire Upper Mersey Estuary. Areas that are difficult to access or even impossible to reach can now be clearly seen, as well as the local wildlife and ecology."
THINKlab Director, Prof Terrence Fernando praised recent work projects: "Due to our success with several Innovate UK commercial projects, the Enterprise team has now grown to four VR experts in the THINKlab. This event is a great opportunity for us to showcase the pioneering VR work that the team has produced during the last few years that brought innovation within our industry partner organisations."
In addition to the THINKlab's commercial VR projects, the team will also be exhibiting a joint project created with the research team.  The Design4Energy VR application allows users to interactively design an energy efficient neighbourhood including road layout, house positions, placement of solar panels and wind turbines while in the background an algorithm works out how energy efficient the design is.
GameLab is a FREE event and open to all the family. It takes place on Saturday 20 & Sunday 21 October, 11am – 5pm at MediaCityUK campus, University of Salford, Salford Quays, M50 2HE.